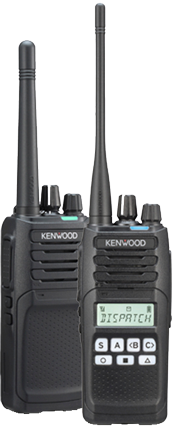 Click here to enlarge.
The NX-1200/1300 is a natural extension of the NX-Series, offering portables that have features found in our NX-3000 Series radios, making them ideal for industrial settings and as an entry level radio for organizations transitioning from analog to digital.
The new NX-1200/1300 portables operate in two digital protocols - NXDN and DMR - and analog, enabling multi-protocol operation and a seamless transition to digital with mixed mode operation. As ideal entry-level digital radios, the NX-1200/1300 offer a high level of standard features including the option for a 13 segment, 8-character direct and intuitive LCD display, programmable 7-color LED indicator and 40-bit ARC4 enhanced encryption in DMR mode.
Users can select a basic or keypad variation, and all models have a slim profile design and include renowned KENWOOD quality audio for high noise environments, plus the 2-pin audio accessory connector and 2 programmable side keys. The NX-1200/1300 meets military standards 810 C/D/E/F/G and IP54 and 55.
Features:
Multi-protocol digital radio:
Designed to operate under NXDN or DMR digital and FM analog protocols
Choose from direct & intuitive LCD with standard keypad or basic enclosures
Easy visible Display: 8-digit LCD models featuring high-contrast, white backlit LCD
Large 7-Color LED indicator on the top panel
Selective Power-on LED
Selective Call Alert LED
Battery Level Indication
Multi-status function indication
RF output power 5W both on VHF/UHF
Mixed Zone - analog and digital
Renowned KENWOOD Audio Quality: TX/RX audio profile with optimizable digital processor
Audio Equalizer: Flat, High, Low
Auto Gain Control: On, High, Low, Off
Noise Suppressor
Microphone type setting
Multiple Scan Functions; Dual Priority, Single Priority, Single Zone, Multi, Normal Scan
VOX & PTT -triggered Semi- VOX, Voice-operated TX
Emergency Function: Customizable Emergency Profile
Lone Worker
Max / Min Volume setting & Volume control
Voice Announcement
Remote Stun / Kill / Check
Front Panel Programming Mode (for Keypad model)
Electronic Serial Number (ESN)
MIL-STD-810 C/D/E/F/G
IP54 and IP55
Intrinsically safe option (Available later)